About Slotsmart
Slotsmart is a Hong Kong based company with a worldwide coverage of highly experienced staff assisting the shipping industry to reduce costs by helping customers to manage container imbalances more efficiently through slot and equipment interchanges. Recognising the need to give confidence to our clients that their equipment is in safe hands, Slotsmart Hong Kong Ltd has been capitalised at USD600,000.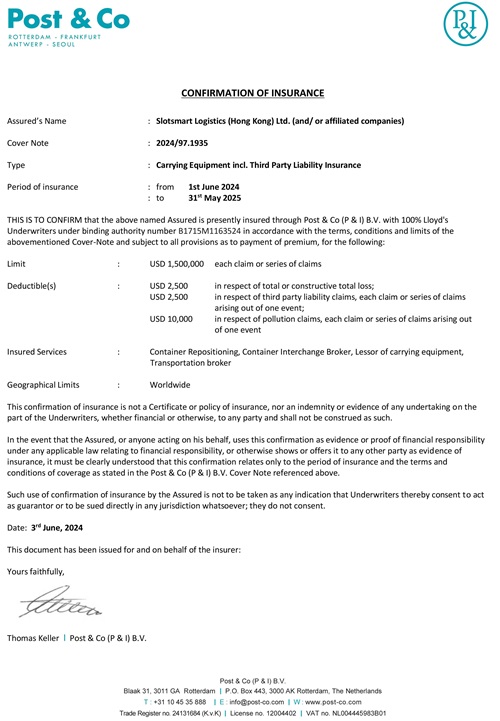 Container Insurance
Slotsmart improved its insurance coverage via newly fixed insurance.
Our insurance Policy Limit is USD 1,500,000
"We are excited about the opportunity to start this new company, leveraging such well-respected, well-established solutions to support current and new users," said Robbie Pilkington, CEO of Slotsmart Logistics. "We look forward to taking our services to the next level, delivering even better equipment utilization and savings to our customers."
Robbie Pilkington – CEO
After a successful career in senior positions in the shipping industry, Robbie pioneered and developed the "Greybox" concept with GEM/TAL/SynchroNet and later International Asset Systems.
As senior VP for IAS he helped them become a market leader in the present Interchange and Slotxchange services which has lead him to the founding of the new venture, Slotmart Logistics (Hong Kong) Ltd.
Robbie is contactable at r.pilkington@slotsmart.org